Helping Inmates Realize Employment Success
Florida HIRES is a pre-release career readiness pathway to post-release employment for returning citizens. Powered the state-sponsored Florida Ready to Work program, Florida HIRES is a partnership between CareerSource Florida and the Florida Department of Corrections (FDC). Florida HIRES collaboratively has developed and implemented an enhanced employability and technical training program for incarcerated individuals within 180 days of release.
The Florida HIRES partnership has provided pre-release career readiness training to more than 350 incarcerated individuals since August 2019. Florida HIRES has provided opportunities for these individuals to earn credentials in commercial truck driving, construction, heavy equipment operation, electrical, advanced manufacturing, warehousing and logistics, and customer service / hospitality.
In addition to in-demand technical skills training, participants receive intensive employability skills training and earn the Florida Soft Skills Credential, a stackable credential validating mastery of the communication, professionalism, teamwork, critical thinking, and problem solving skills most in-demand by Florida employers.
Currently, there are participants enrolled in Florida HIRES and the program is being implemented or in development at six FDC institutions:
Baker Re-Entry Center, Sanderson

Gadsden Re-Entry Center, Havana

Kissimmee Community Release Center

Lowell Correctional Institution, Ocala

Polk Re-Entry Correctional Institution, Polk City

St. Petersburg Community Release Center
What Employers Are Saying
Florida HIRES focuses on aligning pre-release technical training with statewide and regional employer demand and more specifically industries with employers willing to hire returning citizens.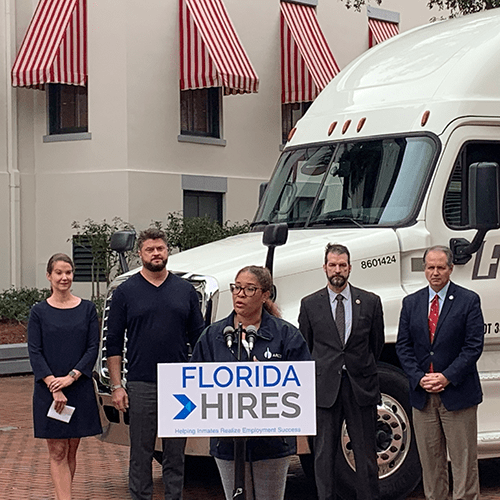 "We were looking for new drivers who are willing to stay and learn more about our company so that we can grow together," said Argos-US Florida Regional Human Resources Manager Monique Wallace. "But like many companies, we were facing workforce shortages until we learned about this CDL program. To date, we have hired eight candidates and could not be more pleased."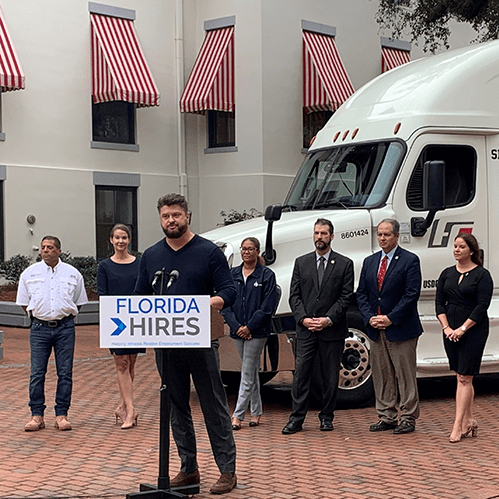 "Teaming up with Florida HIRES has enabled us to train new drivers who are eager to learn, gain a new set of skills and ultimately help our state solve a truck driver shortage. There is nothing more rewarding than doing something you love while also making a positive impact on the lives of other individuals," said Tra Williams, President, Fleet Force Trucking. "Being part of the solution means businesses can continue to do what they need to get products to Florida consumers."
What Graduates Are Saying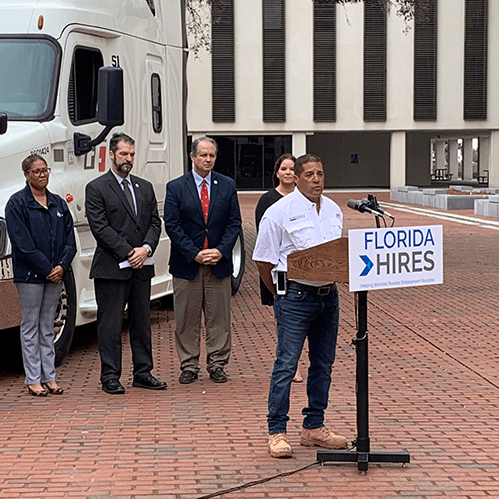 "For more than 20 years I reflected on my future and what I would be able to do as a returning citizen and could not be more grateful for the opportunity that was given to me by the Florida Department of Corrections and Florida HIRES to start again," said Thomas Cramer, Florida HIRES graduate. "This program allowed me to believe in myself and convinced me that I could succeed. I now have a full-time job and I am committed to mentoring other individuals to show them that they can succeed if they put their minds to it."
"I have learned many ways to make it through a job interview in a professional manner. From this program…I have the ability to get a job. This program is going to save a lot of men from coming back to prison."
– Lee, April 2020 Release

"This program is by far the best one I've had the chance to be in all my three prison sentences. Leaving these gates knowing I have a really good chance of having a decent job within a couple of weeks of being released…means I am going to successful and stay out of prison."
– Joshua, May 2020 Release